The New Way to

success.

advance.

progress.
Zilka-Kotab, PC (Zilka-Kotab) is an intellectual property law firm located in the heart of the Silicon Valley, dedicated to providing the utmost in quality and service for the intellectual property needs of high technology companies.
While Zilka-Kotab works with countless different types of mechanical and chemical technologies, our law firm specializes in cutting-edge computer-related hardware and software technology. From advanced semiconductor processing to computer-implemented business methods, Zilka-Kotab is well versed in handling intellectual property matters dealing with leading edge technologies and practices.
Zilka-Kotab differentiates itself from other intellectual property service providers in many respects. Zilka-Kotab goes beyond ordinary intellectual property procurement, management, and exploitation by fusing it with an important factor: your business. Unlike others, Zilka-Kotab practitioners take the time to educate themselves on the unique business environment and goals of each client and their competitors so that such knowledge can be applied when generating and leveraging intellectual property. By evaluating competing research & development and market activity, Zilka-Kotab is capable of increasing the value of each client's intellectual property by effecting its meaningful exploitation with a specific focus on meeting or exceeding business objectives.
To this end, Zilka-Kotab specializes in providing the elusive link between patent procurement and generating value for high technology corporations, large and small.
Whether we are commissioned to build and manage a complete intellectual property portfolio or support others in intellectual property portfolio development, Zilka-Kotab brings to the table many years of experience in intellectual property matters, and the best in quality and service.
---
Prime Location
Our First Street headquarters, located in the 30,000+ square foot Zilka-Kotab building, is conveniently located near the Silicon Valley Satellite Office of the United States Patent and Trademark Office (USPTO) on Fourth Street in San Jose.
We are pleased that the USPTO has selected our neighborhood for this honor. Our proximity to the Satellite Office provides unparalleled access to the local Patent Examiners, thereby providing even greater value and service to our clients.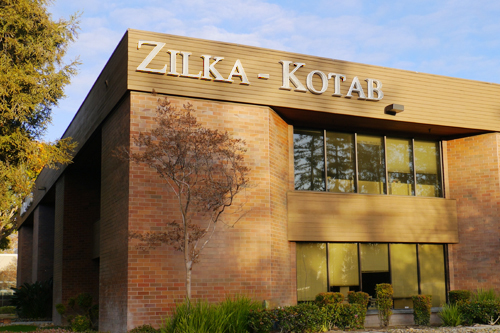 ---
We Have Patented Inventions in Countless Technologies
Network
Wireless Technology
Network Hardware/Architecture
Network Processing
Business Methods/E-commerce
Display
Computer Graphics Processing
Display Technology
Multimedia and Graphical Interfaces
Computer
Semiconductor Processing
Computer Hardware
Computer Software
Digital/Analog Circuits
Miscellaneous
Chemical
Mechanical
Electro-Mechanical
---